Archive for January 2017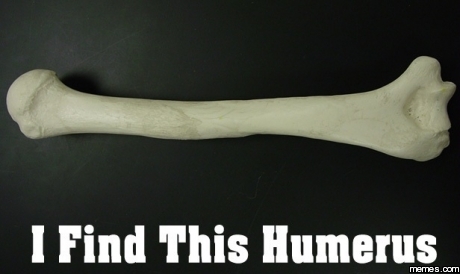 Archaeologists frequently come across bones in the field. Where there are people, there is usually an array of animal remains. Use of the remains varies from food waste to tools or even decorations. Classification of the remains found at sites is important as it can teach us about the population that once lived there. So how does one identify animal remains?
Some bone remains are easier to identify than others. Most modern carnivores can identify chicken bones from seeing them in cooking today. The same can be said of pig or cow ribs. Human and nonhuman mammal bones often have a similar morphology, so having a basic knowledge of your own bones can actually help you ID bones. Take for example this bone.
This bone is a femur, an easily recognizable bone that looks very similar to one you would find in a human. However this femur is obviously much bigger than what would be seen in a human. This femur belongs to a hippo. However compared with a human femur seen below, you can notice the obvious shape similarities.
Knowing what human bones look like can also help to ID nonmammal remains. For example this picture of fish vertebrae, which look some what similar to human vertebrae.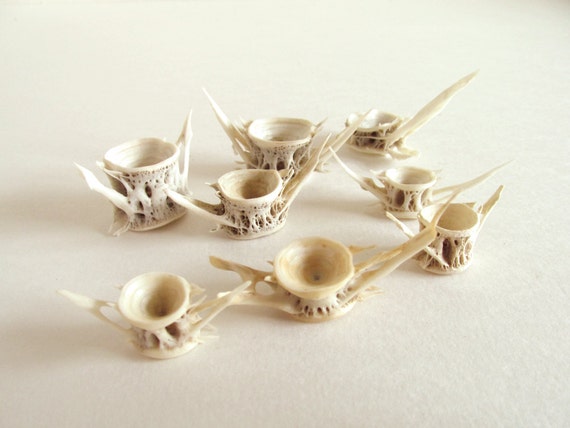 We can easily know that these remains are vertebrae just from common anatomical knowledge of our own bodies.
Other classifications can be applied to animal remains. For example, quadrupeds forelimbs and hindlimbs are roughly the same length. In bipedal humans however our legs are clearly longer than our arms. When dealing with more complete skeletons, this knowledge can be helpful in comparing different bones.
Deer Skeleton
Differences can also be an easy way to identify animal remains. Bird bones for example are very lightweight and hollow. This contrasts greatly to the thick and heavy bones of mammals. The picture below shows a cross section of both these bones for comparison.
Fish bones are delicate, like bird bones however they have some easily identifiable differences. Fish bones can have a translucent appearances to them, while bird bones are glossy, but not translucent. The picture below is a great example of the translucent look fish bones can have.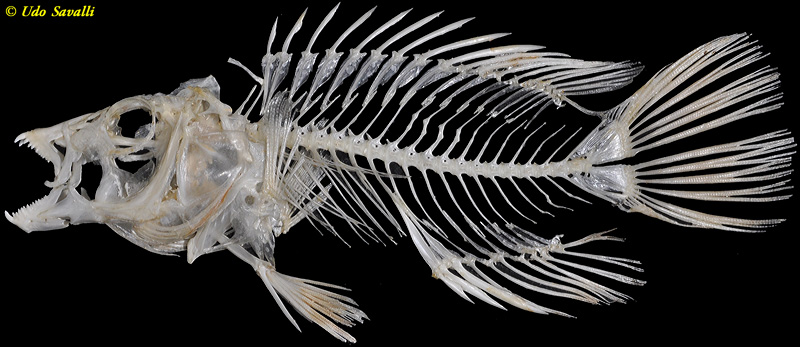 -->
So why is the identity of animal bones important? Animal bones can tell us about the diet of a population as well as what local resources were being used. Finding fish bones shows that people were utilizing fishing technologies, while finding terrestrial animals suggests other hunting techniques. Animal bones are an important and common part of the archaeological record. Analysis of them is important for archaeologists to understand the people of the past.
Written by, FPAN staff Megan Liebold
Heritage Monitoring Scouts
(HMS Florida), FPAN is in the process of assessing the extent of the damage. However, sometimes we discover that Matthew has befriended us by unearthing something from the past! So was the case when we assessed Spengler Island.
Historic aerial view of Whitney Mansion prior to burning
Could the sanatorium story have come from the memories of a large home that once stood on the island and burned in the 1920's? John F. Whitney (grandson of Eli Whitney, inventor of the cotton gin) purchased Spengler Island in the 1870's and proceeded to build a home only the wealthy could afford. Whitney had friends in high places: Abraham and Mary Todd Lincoln, Thomas Edison, and P.T. Barnam to name few. It's known that after the president's assassination, Mary Todd Lincoln was an over-night guest at the Whitney mansion at least once.
Mary Todd Lincoln
As we approached the island by kayak we saw no sign of the former grandeur, only the evidence of more recent habitation. Wet sleeping bags and modern day garbage were the initial finds to greet us.
After the fire and passing of many decades, nothing of the Whitney home is left above ground. St. Johns County did an
archaeological survey in 2010
where test pits revealed the footers (foundation) of the mansion. We never would have located the house location without a former 2010 survey crew member guiding us through the thick brush (thank you Eric Giles!)
What was only revealed through excavation in 2010...
was now exposed from downed trees due to Hurricane Matthew...
Brick and coquina footers, along with pottery and glass pieces from the era, had been churned up by the hurricane. Not a treasure from Mary Todd Lincoln's stay, but a treasure for an archaeologist!
Once again, the visit to this site reaffirmed the necessity of the HMS program and the importance of keeping an eye on our cultural heritage - for better or for worse!
Text by FPAN Staff: Robbie Boggs
Photos by: Robbie Boggs, biography.com, St. John's County
Prehistoric pottery refers to fired clay objects, most notably vessels, made by the native peoples in Florida. These pottery traditions began in the St. Johns River valley around 4,500 years ago and continued through European contact even to Seminole potters today.
Cordmarked pot from ca. AD 900-1250 Jacksonville, UNF Archaeology Lab, photo by Kevin Gidusko.
How to spot this pottery when monitoring
Prehistoric pottery is coarse earthenware and can range from greys to tans and even reds and oranges. It is generally unglazed, though it can be polished to a nice shiny surface. The vast majority of the pottery found in northeast Florida will also not have any paint or coloring added to the surface. The pottery was all pit-fired at lower temperatures than European wares and the ceramics we use today. This means it will be more porous and soft.
Prehistoric pottery can be found at various prehistoric sites including shell middens, mounds and even in simple artifact scatters. Later types are also found at historic sites like missions and Spanish households.
What does Pottery tell us about the past?
Archaeologists can learn a lot from pottery. We can gain insights into cooking and cuisine when thinking about the shape, size and uses of the pottery. We can learn about art and prehistoric worldviews when examining the designs on pottery. We can trace trade routes and social interactions when studying when and where pottery is found. We can understand prehistoric technology and manufacturing when delving deeper into the construction of the pottery.
How do archaeologists learn all of that stuff?
Archaeologists use a wide array of techniques and technology to uncover this information. At the most basic level, we try to establish typologies (categories of pottery) and seriations (putting these categories along a timeline) to help us understand how pottery changes over time and space. Archaeologists use the tempering agents in the paste and the surface treatments to sort and classify individuals sherds (pieces of pottery). A temper is anything added to the clay to help with the firing process and can give the final pot specific characteristics. We'll then try to reconstruct whole vessels.
View from basic pottery analysis.
For more information on prehistoric pottery, check out these blog posts: Ceramics 101: Unglazed Coarse Earthenware (
Part 1:

Prehistoric), Woodland Pottery: Swift Creek, or Lab Time: Prehistoric Pottery. You can also check out a guide for prehistoric pottery on the Gulf Coast here.
To learn more about or join the HMS Florida site monitoring program, visit www.fpan.us/hmsflorida.
Words and images by Emily Jane Murray, FPAN Staff, unless otherwise noted.